Facebook Radio Player the webradio player compatible facebook
Would you like to add a Radio Player to your Radio Stations Facebook Page?
We are now able to provide a Radio Player plugin/tab for your Facebook Page!
Allow your Facebook fans/followers to listen to your Radio Station direct from your Facebook page and get even more listeners and interaction with your station. The plugin will also display the song that is currently playing and a list of recently played songs.
Here's a list of features available:
Configure your audio stream, compatible with most MP3 and AAC+ streams.

Customize colours and fonts.

Choose the type of player you'd like.

Choose whether to autoplay the audio stream on load.

Choose whether to include adverts (to monetize your page!).

Choose whether to include social sharing links.

Choose whether to include 'Buy this song' icons (to monetize your page!).

Configure how many 'Recently Played' songs to display.

Many more features…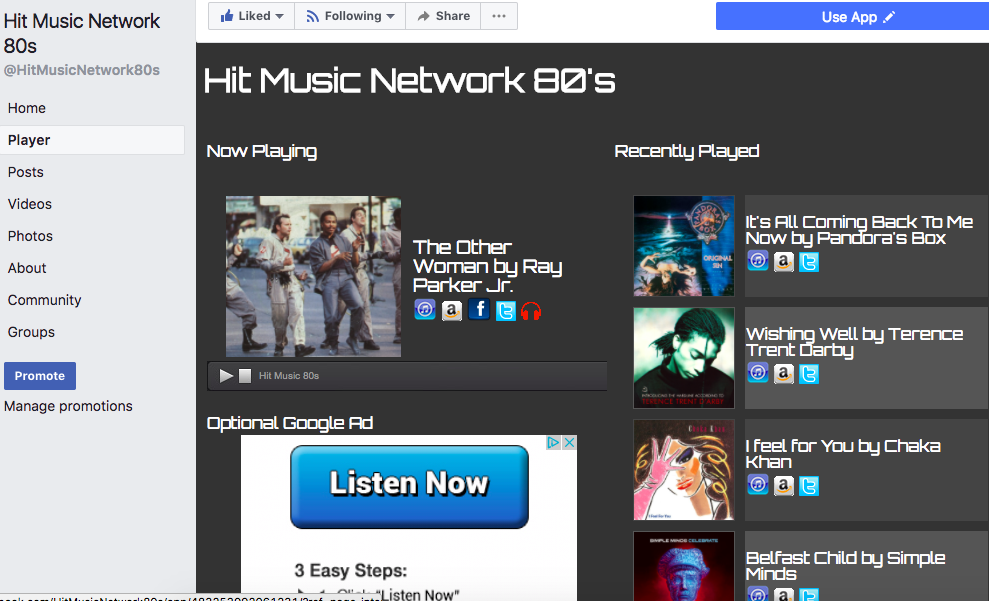 If you'd like to view it working in real-time, check out our demo radio station page here.
Please note that this service is only currently compatible with the desktop version of Facebook.
The plugin will not be displayed on mobile versions.
This is a Facebook limitation.
The service is still possible if the Facebook destination page of tab have over 2,000 fans/followers.

Order from 5.00€/month
order accessible to customers Location Webradio Streaming and external to our services