Google Home Actions your webradio played by Google Home
Google Home Actions
GOOGLE NO LONGER PROVIDES THE GOOGLE HOME SERVICE FROM 07/12/2023
WE ARE NO LONGER PROVIDING THIS SERVICE AS OF THIS DATE
Over 150 million smart speakers have been sold to date. At the end of 2018, there were over 52 million Google Home devices sold.
That's a whole lot of listeners available to your radio station if you can get access to these devices.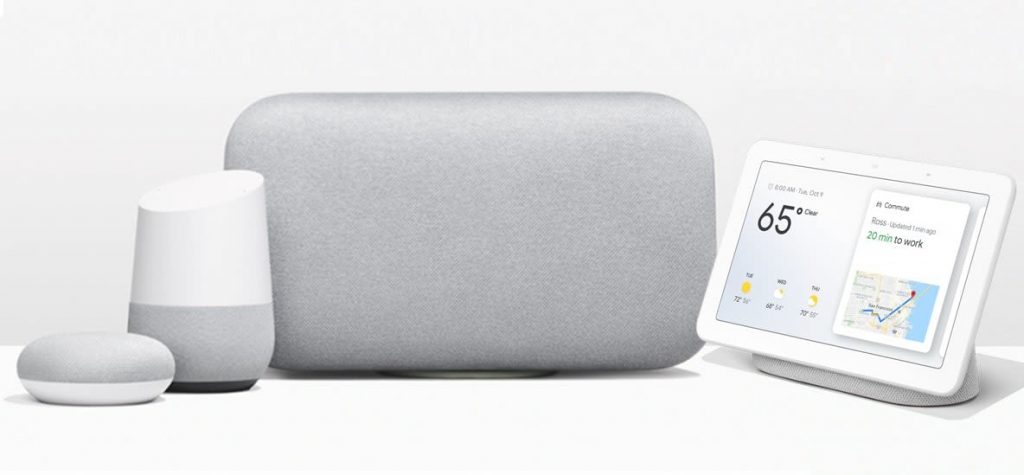 autopo.st can get YOUR radio station available on the Google Home range of devices by just submitting a few details and all in a few days.
Can you afford for your radio station to NOT be available to all these listeners?
Now is the time to get a piece of this action and get YOUR station at the top of peoples favorite Google Action lists.
An 'Action' is like an app, and allows people to command the Google Assistant to play your live radio stream with a simple sentence such as 'Hey Google, talk to (your station name)'.
The development team at autopo.st are able to work with you and get YOUR Radio Stations 'Google Action' created and published to the Google Action Store so that millions of users can stream your radio station on their Google Home devices.
All we need from you are some details of your Radio Station (Station name), some images for the Google Action Store and you'll have your Radio Station available to millions of homes and devices.
So, how does it work?
Sign up to our Google Home Action service (existing customers may sign up via our control panel).
Submit your details (Radio Station name, how you want to Google to play your station, your audio stream and some logos).
We create and publish your Google Action to the Google Action Store.
Advertize your Action to your listeners and tell them how to get the Action (or they can find it in the Google Action Store).
Start streaming your station to millions of devices with a simple 'Hey Google, talk to (your radio station)'!
Via our control panel you can update your stream (in real time), get stats on listeners and even view your monthly listeners on a Google Map to see who is tuning in and from where!
Features include :
Your customized 'invocation name', you choose how to make Google play your station.
Listener statistics (by month).
Listener maps. See where your listeners are tuning in from.
Update your audio stream in real time.
The Google Action is compatible with every Goole Home, making it immediately available to the Google Home, Google Nest and any other device with the Google Assistant (with a speaker and Internet Connection)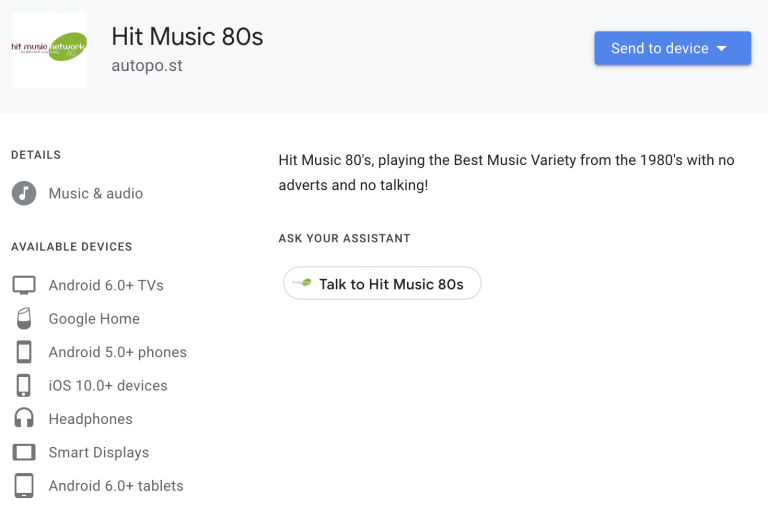 Want to see an example?
Check out the demo action for our test station Hit Music 80s here or just say 'Hey Google, talk to Hit Music 80s.
Ready to reach millions of homes and devices?