Cloud Audio Logging record streaming radio
Cloud Audio Logging
Keeping an audio log of your Radio Stations output is a legal requirement for many stations in many countries. A requirement set by authorities such as the FCC and OFCOM (and many other regulatory bodies).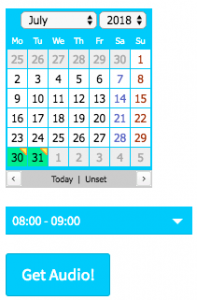 Our Cloud Audio Logging service allows us to take that worry away from you by storing a 24/7 audio output from your Radio Station and storing it in the cloud for future reference should you need it.
This service is not only useful for legal requirements, but is also a great way to store the last 42 days of your stations output, should you need to refer back to it at any time.
We keep a backup of your stream for 42 days which you can access and listen to (and download) at any time via our control panel. We break the stored files down into convenient hourly blocks to make it easier to access the content you need without searching through hours of content…
Just pick the date and time you need to listen to and play it immediately via the control panel or download it for analysis.

You don't need any hardware or software, just give us your Internet stream and we'll monitor, record and save your entire Radio Stations output for 42 days in broadcast quality, 128kbps stereo audio files.
Features include:
Cloud based, no hardware/software required!

Compatible with most streams (MP3, AAC, Shoutcast, Icecast and many more…).

Save up to 42 days of 24/7 audio output.

Each file is broken down into 60 minute segments to aid search.

Access audio files from anywhere in the world.

Listen to and download files via our custom Control Panel.

128kbps, stereo, broadcast quality playback and download.

Order - from 25.00€/mois
order accessible to customers Location Webradio Streaming and external to our services