Web Radio Player compatible many streaming platforms and web browsers
Web Radio Player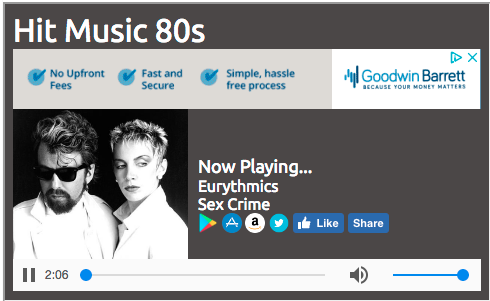 Looking for a simple, yet effective HTML5, responsive Web Player for your Radio Station?
One that is compatible with nearly every Streaming Platform and browsers, including mobiles?
One that is fully configurable via a cloud-based control panel?
Then look no further than the autopo.st Web Player, it has all these great features:
SSL Enabled, great if your site is already HTTPS compliant.

Compatible with all major streaming platforms.

HTML5 ready.

Show 'Now Playing' song and image of the artist/cover art.

Fully Customizable (Font, background color, font color, choose to add 'Buy this now' links for songs, social media icons, etc…).

Configure via our control panel for real-time changes, no programming needed!

Add Google adverts to monetize your Radio Station.

Add iTunes and/or Amazon affiliate 'Buy this song' icons to monetize your Radio Station.

Easy to embed with 2 lines of code.

Works on mobile/tablet devices.

Compatible with major browsers, Chrome, Firefox, Safari, Edge…

Compatible with major operating systems (Windows, MacOS, Android, iOS).

Compatible with MP3 and/or AAC streams.
Want to see what it looks like? Just click below to launch the player now!
Like it? Sign up now and have your Web Radio Player up and running in just a few minutes!*

Order from 5.00€/month
corder accessible to customers Location Webradio Streaming and external to our services
* You'll need access to your website to add 2 lines of code to launch the player.
* Player auto starts on all browsers except Safari, where the user has to start the stream. This is a limitation of Safari. Some mobile devices also have this limitation.
* Google Adsense account required for adverts. iTunes affiliate account required for iTunes 'buy this now' links. Amazon account required for Amazon 'buy this now' links.